From its raw state, we designed and created a one-of-a-kind powder room vanity
*All known materials listed at bottom of post*
We first shared about CEO and Principal Designer/Craftsman Jason Hoffman's Black Walnut adventure here. Today, we're sharing the finished product of this bathroom remodel in Needham, MA.
As a refresher….
Below is a quick render of the design approved by our client. This is a result of Phase 3 of our Design Build process.
Jason then started selecting the lumber, considering what part of the vanity each piece would be used for, paying special attention to color, grain patterns and figuring. From there, he started creating and fitting each individual piece.
Next came sanding, finishing and assembly.
Waterfall Countertop Inspiration
Our client was inspired by a few, impactful, powder room photos she found on Houzz.com; see one of them below. She loved the large slab, stone countertop look. Our stone fabricator created this look by mitering separate pieces together, mimicking a waterfall installation commonly seen on kitchen islands. To accommodate the extra height of a large countertop, we customized the vanity height, down to approximately 28″ (leaving room for the 8″ waterfall/mitered stone countertop) rather than the traditional 35″ vanity that leaves room for approximately 1″ for the standard countertop thickness.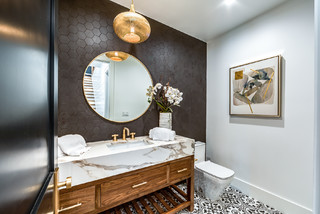 Photo by Extreme Developers, Inc
Plumbing Drawer
Another unique but necessary vanity feature was the plumbing drawer. We wanted to give our client a functional drawer. One that could be used for everyday storage, hidden away from view. To accommodate for the sink and plumbing underneath the sink, we built a plumbing or plumber's drawer. The drawer carves out space at the back of the drawer, leaving room for pipes, while allowing storage space in the front and sides of the drawer.
Dovetails
Dutifully honored to bear the title "Master Carpenter" Jason paired the Black Walnut drawer face with Birdseye Maple Drawer Sides. Married together with nothing other than hand cut, European, half blind dovetails. This cannot be made by machines. This is the sign of a true craftsman.
Installation
We finished the piece with a slatted base shelf. Just enough interest to tie in the walnut at the bottom of the vanity, as well as hold baskets or other decorative items.
Finished Product
This bathroom is the main, guest bathroom and used by homeowners and guests alike as the only first floor bathroom. It also has no natural light. Our goal was to create a functional, beautiful room, our clients would be proud to share with guests. In addition to the custom vanity, our team installed wainscotting to add a classic finish. 

Materials
Vanity – customized by J.P. Hoffman Design Build
Countertop – MSI Q Calacatta Valentin
Faucet – California Faucets 8″ Descanso
Toilet – Toto UltraMax One-Piece
Floor Tile – Cava Gold 4×12 Glazed Porcelain Matte (in herringbone pattern)
READ MORE
Megan Hoffman
Tools Gift Guide curated by our Carpentry Team Are you looking for last minute Father's Day Gift ideas? Or perhaps some gift ideas for a new homeowner? Or, maybe you're curious what tools professional
Megan Hoffman
From its raw state, we designed and created a one-of-a-kind powder room vanity *All known materials listed at bottom of post* We first shared about CEO and Principal Designer/Craftsman Jason Hoffman's Black Walnut adventure
Megan Hoffman
We're honored once again, to have been selected by the Editors at Houzz.com as a Bathroom of the Week feature! Coincidently, we wrote about last year's highlight, exactly one year ago today, on July